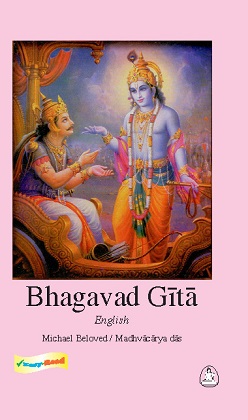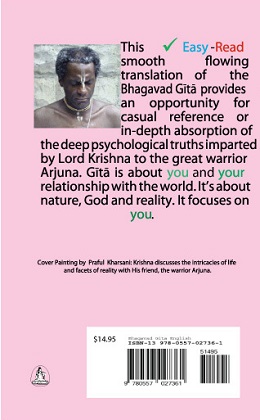 Publication Data
Publisher:

Michael Beloved
Date: November 14, 2008

ISBN Print:

9780979391637

ISBN eBook

: 9780979391675

LCCN: 2008906310

Pages:

178
Illustrations:

2
Trim Size:

4.25 x 6.88 x 0.6 inches
Language:

English

Category: Religion and Spirituality

Book Vendors
Bookwire/Bowker ISBN Agency (SEO): Paperback / eBook

Paperback
eBooks
Email: This email address is being protected from spambots. You need JavaScript enabled to view it.
Forum: inSelf Yoga
Description:
This easy-read smooth flowing translation of Bhagavad Gita is for casual or in-depth absorption of the deep psychological truths imparted to Arjuna by Lord Krishna. Gita is about you. It's about your relationship with everything else. It's about Nature, God and reality. It focuses on you.
Author's Comment:
This is just English. This is good for reading through the Bhagavad Gita to become familiar with the trend of the conversation between Lord Krishna and Arjuna.
This is pocket size, making it easy to carry in clothing or handbag.
Bhagavad Gita may seem strange but if one reads through it again and again, one begins to follow the conversation and acquire methods of improvement for spiritual life.
Reviews:
An Easy Read by Bernard Adhoja:
This little Bhagavad Gita book is a sure must have. Why? because as the book cover says ... it's an easy read.
I have been carrying this book with me almost everyday that I go to and from work. It easily fits in my jacket pocket and I read when on the train or bus. When you concentrate on the verses you can pretty much get the feeling that this discourse is being spoken right at that moment as you are reading. The language is easy to follow and the reading is like picking up a story book, but for those who are students of Gita, this is not like any other story book. There is also a large index, which is very handy when you just want to know about a particular word or topic.
To sum up, I have become found of this little book. It has made me more interested in wanting to read this text more and to be better familiarize with this discussion between the Person Krishna and His friend Arjuna. The author has done a very good job in presenting the Gita to those who prefer an easy read, but still desire an unbiased and honest interpretation.
Very Good Primer and Reference by Jason Smith:
This translation of the ancient Bhagavad-gita is very straightforward and easy to use and reference. Complete with an index, I had no problem referring to any portion of the book. It's very small size was convenient as well.
As far as the content, the Bhagavad-gita is a timeless philosophical discourse that is both insightful and infinite in its wisdom. I highly recommend ordering this book and studying it, much like Sun Tzu--The Art of War. The book could perhaps have included some introductory discussion on the overall background of the Battle of Kurukshetra and the context of the time; however, this can be found in other places online if you aren't already familiar with the story.
Overall, a great read and a constant reference tool for how to live your life and make decisions.
Very Accurate by Dear Beloved:
Compact, pocket-sized translation that was easy to read and understand and very accurate. I highly recommend this along with other classical philosophical texts like "The Art of War".
Does Not Oversimplify by Marcia Metusalem:
In the Bhagavad Gita, Krishna presents himself as the Supreme Person (God). He explains how human beings get psychologically stuck in material existence and gives a detailed process on how to become spiritually situated and at the same time be involved in cultural activity. Some of the concepts are mind bending; some must be taken in context of the ancient world. Any person who wants to go beyond organized, faith-based religion, will be drawn to and challenged by the Gita. This translation is written in modern English. It is precise but does not oversimplify or distort anything.
Great by Psbra (Amazon customer review, March 18, 2012):
I've read other Mahabharatas and I can assure this version is a great obra. It's easy to assimilate and comfortable to read. Even my wife, who is Christian, is loving the Hindu story.