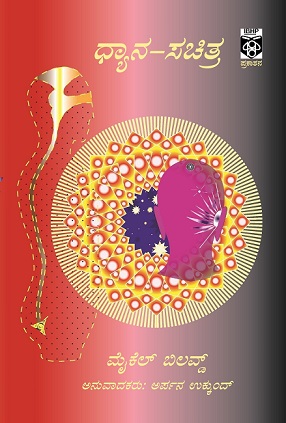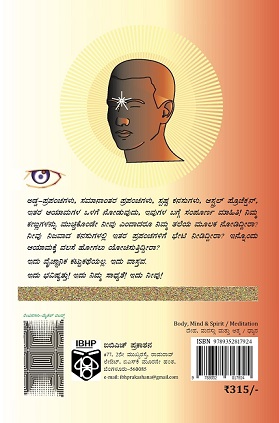 Publication Data (ಪ್ರಕಟಣೆ ಮಾಹಿತಿ)

Book Name: Dhyana Sachitra (ಧ್ಯಾನ-ಸಚಿತ್ರ)
Language: Kannada (ಕನ್ನಡ)
Author: Michael Beloved (ಮೈಕೆಲ್ ಬಿಲವ್ಡ್)
Translator: Arpana Ukkund (ಅರ್ಪನ ಉಕ್ಕುಂದ್)
Publisher: IBH Prakashana, Bangalore (ಐಬಿಎಚ್ ಪ್ರಕಾಶನ, ಬೆಂಗಳೂರು)
Published Date: November 2017
ISBN: 9789352817924
Book Size: 8.5 x 5.5 inches
Category: Body, Mind & Spirit / Meditation (ದೇಹ, ಮನಸ್ಸು ಮತ್ತು ಆತ್ಮ / ಧ್ಯಾನ)
Book Type: Paperback
Book available at: https://www.sapnaonline.com/shop/Author/arpana-ukkund
Email: This email address is being protected from spambots. You need JavaScript enabled to view it.
Forum: inSelf Yoga
ವಿವರಣೆ:
ಆಸ್ಟ್ರಲ್ ಪ್ರೊಜೆಕ್ಷನ್, ಸ್ಪಷ್ಟವಾದ ಕನಸು, ಅಡ್ಡ ಪ್ರಪಂಚದ ಅನುಭವ ಹಾಗೂ ಮೂರನೇ ಕಣ್ಣಿನ ಮೂಲಕ ನೋಡಲು ಬಳಸಲಾಗುವ ಯೋಗ ಮತ್ತು ಅತೀಂದ್ರಿಯ ವಿಧಾನಗಳ ಬಗ್ಗೆ ವಿವರವಾದ ವಿವರಣೆ. 150 ಕ್ಕಿಂತಲೂ ಹೆಚ್ಚು ವಿವರಣಾತ್ಮಕ ಚಿತ್ರಗಳು, ತೆರೆದ ಮೂರನೆಯ ಕಣ್ಣನ್ನು ಮತ್ತು ಚೈತನ್ಯಯುತ ಕುಂಡಲಿನಿಯನ್ನು ಮತ್ತು ಅತೀಂದ್ರಿಯ ಅಭ್ಯಾಸದ ಇತರ ಅಂಶಗಳನ್ನು ತೋರಿಸುತ್ತವೆ. ಸೂಕ್ಷ್ಮ ದೇಹವನ್ನು ವಿಸ್ತಾರವಾಗಿ ವಿವರಿಸಲಾಗಿದೆ. ಈ ದೇಹವು ಹೇಗೆ ತೇಲುತ್ತದೆ ಎಂಬುದನ್ನು ವಿವರಣಾತ್ಮಕ ಚಿತ್ರಗಳು ತೋರಿಸುತ್ತವೆ. ಧ್ಯಾನದ ತಂತ್ರಗಳನ್ನು ಚರ್ಚಿಸಲಾಗಿದೆ. ವೈಯಕ್ತಿಕ ಅಭ್ಯಾಸಕ್ಕಾಗಿ ಸೂಚನೆಗಳನ್ನು ನೀಡಲಾಗಿದೆ. ಇದು ಸಮಾಧಿ ಸ್ಥಿತಿಯಲ್ಲಿ ಹಾಗೂ ಜಾಗೃತ ಆಸ್ಟ್ರಲ್ ಪ್ರೊಜೆಕ್ಷನ್‌ಗಳಲ್ಲಿ 40 ವರ್ಷಗಳ ಅನುಭವದ ನಂತರ ಒಬ್ಬ ಕುಂಡಲಿನಿಯ ಯೋಗ ಪ್ರವೀಣರು ತಯಾರಿಸಿದ ಒಂದು ವಿಶಿಷ್ಟವಾದ ಪ್ರಕಟಣೆಯಾಗಿದೆ.
Description:
A detailed description of astral projection, lucid dreaming, cross world experience and the yogic and mystic methods which were used to see through the third eye. More than 150 illustrations, show the opened third eye and the energized kundalini and other aspects of mystic practice. The subtle body is described in detail. Illustrations show how this body floats. Meditation techniques are discussed. Instructions are given for individual practice. This is a one-of-a-kind publication, produced by a kundalini yoga master, after 40 years of experience in samadhi trances and conscious astral projections.
ಹಿಂಪುಟ:
ಅಡ್ಡ-ಪ್ರಪಂಚಗಳು, ಸಮಾನಾಂತರ ಪ್ರಪಂಚಗಳು, ಸ್ಪಷ್ಟ ಕನಸುಗಳು, ಆಸ್ಟ್ರಲ್ ಪ್ರೊಜೆಕ್ಷನ್, ಇತರ ಆಯಾಮಗಳ ಒಳಗೆ ನೋಡುವುದು, ಇವುಗಳ ಬಗ್ಗೆ ಸಂಪೂರ್ಣ ಮಾಹಿತಿ! ನಿಮ್ಮ ಕಣ್ಣುಗಳನ್ನು ಮುಚ್ಚಿಕೊಂಡೇ ನೀವು ಎಂದಾದರೂ ನಿಮ್ಮ ತಲೆಯ ಮೂಲಕ ನೋಡಿದ್ದೀರಾ? ನೀವು ನಿಜವಾದ ಕನಸುಗಳಲ್ಲಿ ಇತರ ಪ್ರಪಂಚಗಳಿಗೆ ಭೇಟಿ ನೀಡಿದ್ದೀರಾ? ಇನ್ನೊಂದು ಆಯಾಮಕ್ಕೆ ವಲಸೆ ಹೋಗಲು ಯೋಚಿಸುತ್ತಿದ್ದೀರಾ?
ಇದು ವೈಜ್ಞಾನಿಕ ಕಟ್ಟುಕಥೆಯಲ್ಲ. ಇದು ವಾಸ್ತವ.
ಇದು ಭವಿಷ್ಯತ್ತು! ಇದು ನಿಮ್ಮ ಸಾಧ್ಯತೆ! ಇದು ನೀವು!
Backcover:
Cross-worlds, parallel worlds, lucid dreams, astral projection, seeing into other dimensions, the whole scoop! Have you ever seen through your head even with your eyes closed? Have you visited other worlds in real dreams? Thinking of migrating to another dimension?
This is not science fiction. This is for real.
It's the future! It's your possibility! It's you!
Author's Comment:
This book was originally published in a small spiral booklet. It was the first in a series of such booklets. This publication however, consists of all those booklets in one volume.
This is essential for those who desire to experience the subtle and spiritual worlds, before departing the body. Basically speaking there are two kinds of spiritual aspirants, those who are careful to pursue spiritual experience during the life of the material body and those who do not care for that.
This book is helpful to those who want the experience now and do not want to wait until the death of the body to know for sure what is beyond this physical plane.
Believe it or not this book has over 150 diagrams showing the subtle body, the chakras, the mystic antics required in meditation and much more. This is a very essential book if you are interested in spiritual experience.
Reading Vedic literatures like Bhagavad Gita, which I translated and wrote commentaries for, is one thing. Experiencing the spiritual truths is another matter. The way you may experience the spiritual truths initially might not tally with what you read in the scriptures. But that initial stage is a clearing stage to prepare you for more clarity. This book shows much about what will happen in that clearing stage. This information could save you from much confusion and doubt and set your firmly on the spiritual path of self-purification.