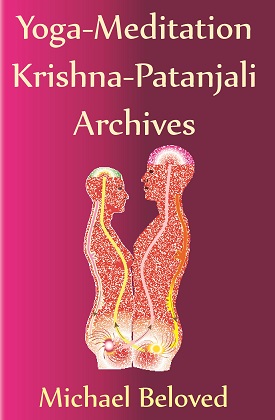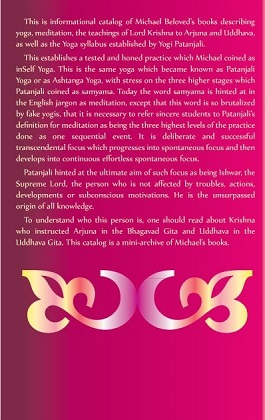 Publication Data
Publisher:

Michael Beloved
Date: April 16, 2013

ISBN
Print Color Interior:

9780988401112

Print Black/White:

9780988401136

eBook

: 9780988401143

LCCN: 2013906612

Pages:

79
Illustrations:

48
Trim Size:

5.5 x 8.5 inches
Language:

English

Category: Body, Mind & Spirit / Meditation

Book Vendors
Bookwire/Bowker ISBN Agency (SEO):
Paperback (color) / Paperback (black&white)
Paperback -Color Interior
Paperback -Black/White Interior
eBooks
Email: This email address is being protected from spambots. You need JavaScript enabled to view it.
Forum: inSelf Yoga
Description:
This is an information archive of the books authored by Michael Beloved on the subjects of yoga and meditation, reincarnation, astral projection, supernatural/spiritual perception, Krishna's and Patanjali's teachings.
Back Cover:
This is informational catalog of Michael Beloved's books describing yoga, meditation, the teachings of Lord Krishna to Arjuna and Uddhava, as well as the Yoga syllabus established by Yogi Patanjali.
This establishes a tested and honed practice which Michael coined as inSelf Yoga. This is the same yoga which became known as Patanjali Yoga or as Ashtanga Yoga, with stress on the three higher stages which Patanjali coined as samyama. Today the word samyama is hinted at in the English jargon as meditation, except that this word is so brutalize by fake yogis, that it is necessary to refer sincere students to Patanjali's definition for meditation as being the three highest levels of the practice done as one sequential event. It is deliberate and successful transcendental focus which progresses into spontaneous focus and then develops into continuous effortless spontaneous focus.
Patanjali hinted at the ultimate aim of such focus as being Ishwar, the Supreme Lord, the person who is not affected by troubles, actions, developments or subconscious motivations. He is the unsurpassed origin of all knowledge.
To understand who this person is one should read about Krishna who instructed Arjuna in the Bhagavad Gita and Uddhava in the Uddhava Gita. This catalog is a mini-archive of Michael's books.