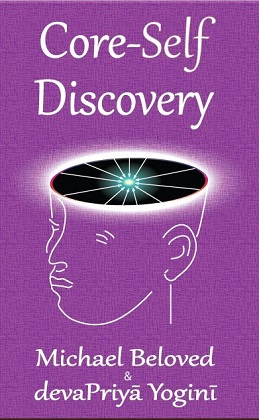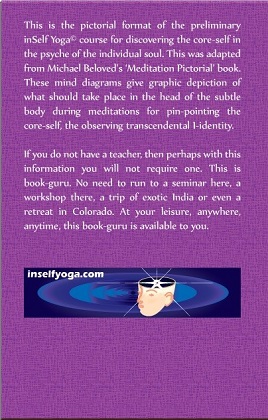 Publication Data
Authors:

Michael Beloved & devaPriya Yogini

Publisher:

Michael Beloved
Date: Jun 04 2013

ISBN Print:

9780988401129



ISBN eBook

: 9780988401105
DVD UPC: 887936751080
Pages:

78
Illustrations:

50
Trim Size:

5.5 x 8.5 inches
Language:

English

Category:

Body, Mind & Spirit / Meditation

Book/DVD Vendors
Bookwire/Bowker ISBN Agency (SEO): Paperback / eBook
| | |
| --- | --- |
| Amazon DVD | USA |
| Amazon Instant Video | USA |
Paperback
eBooks
Email: This email address is being protected from spambots. You need JavaScript enabled to view it.
Forum: inSelf Yoga
Description / Back Cover:
This is the pictorial format of the inSelf Yoga® course for discovering the core-self in the psyche of the individual soul. This was adapted from Michael Beloved's "Meditation Pictorial" book. These mind diagrams give graphic depiction of what should take place in the head of the subtle body during meditations for pin-pointing the core-self, the observing transcendental I-identity.

If you do not have a teacher, then perhaps with this information you will not require one. This is book-guru. No need to run to a seminar here, a workshop there, a trip of exotic India or even a retreat in Colorado. At your leisure, anywhere anytime, this book-guru is available to you.
Authors' Comments:
Michael Beloved:
If you are interested in introspection, if you have tried to practice kriya yoga, if you do meditation, then you have nothing to lose by going through the diagrams in this book.
What do you do when you meditate? Do you have a procedure? Is your head all a mush, a void, with nothing in it? What happens to your thinking apparatus when you meditate? What is the status of your vision energy?
If you do not know what takes place in your head, if it is all vague, if it is not something that you can describe, then look into someone else's mind. Look at the diagrams.
devaPriya Yogini:
There is a sequence of events that occur within the mind when it comes to thought. Thoughts are not as random as they may seem once the arrangement of the subtle mechanics in the head is understood.
Meditation is not impossible even if you have tried and were unsuccessful many times.
The core self is the central component of mind and it is where we begin this series of booklets. The instructions and illustrations aim to explain and exercise how the distribution of mental energy determines the way the components function. Using the procedures outlined in each booklet, starting with the core self, the obstacles between you and self-realization begin to disintegrate.
It is an empowering event when the aspiring meditator realizes that through will power, energy can be directed into and out of the components, establishing the correct internal environment for success in meditation. Finally!