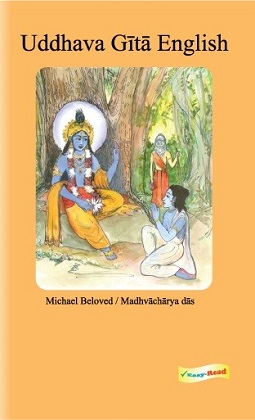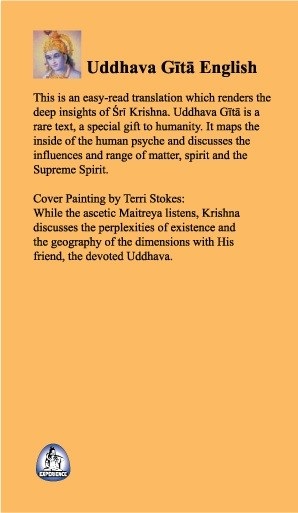 Publication Data
Publisher:

Michael Beloved
Date: April 4, 2009

ISBN Print:

9780981933207

ISBN eBook

: 9780981933283

LCCN: 2008911847

Pages:

290
Illustrations:

3
Trim Size:

4.25 x 6.88 x 0.7 inches
Language:

English

Category: Religion and Spirituality

Book Vendors
Bookwire/Bowker ISBN Agency (SEO): Paperback / eBook

Paperback
eBooks
Email: This email address is being protected from spambots. You need JavaScript enabled to view it.
Forum: inSelf Yoga
Description / Back Cover
This is an easy-read translation which renders the deep insights of Śrī Krishna. Uddhava Gītā is a rare text, a special gift to humanity. It maps the inside of the human psyche and discusses the influences and range of matter, spirit and the Supreme Spirit.
Cover Art:
Painting by Terri Stokes : Krishna discusses the intricacies of life and facets of reality with His devotee Uddhava, while Maitreya, an ascetic, looks on.
Author's Comment:
This is the English translation only. This is a handy pocket size edition, which could be carried in a man's pocket or woman's handbag. Take this along when you ride a bus or will be somewhere with spare time. Get to know what Lord Krishna told Uddhava which was not mentioned nor recommended to Arjuna in Bhagavad Gita.
The commentary was published as Uddhava Gita Explained. Keep the commentary at home. It is a large book some 740 pages. While reading this pocket volume, note topics of interest and read further in the commentary, when you have the time to do so.
Reviews:
Advanced Psychology, Human Nature and Inner Powers
by John Wilson "JW", May 25, 2012
This is an entertaining and interesting read that covers advanced psychology, human nature and inner powers. It even speaks about the subtle hole at the head through which a spirit should depart at death, something that was a central piece of the Dan Brown novel "The Lost Symbol." It's a direct translation with very clear words and very potent information. Anyone interested in achieving a higher state of consciousness, clearing the cloudy confusion of materialism, or just learning ancient secrets that never change with time, should definitely read this...and not just once, but two or three times for deeper meanings.