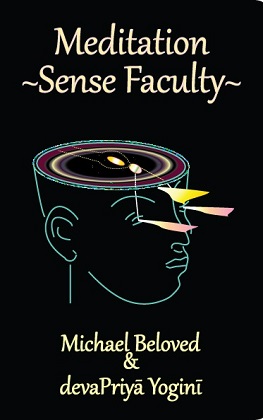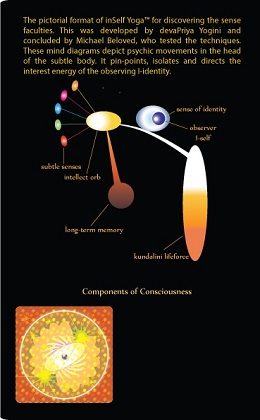 Publication Data
Authors:

Michael Beloved & devaPriya Yogini
Publisher:

Michael Beloved

Date: March 2, 2016

ISBN Print:

9781942887034

ISBN eBook

: 9781942887041

LCCN:

2016903460

Pages:

160
Illustrations:

84
Trim Size:

5 x 8 inches
Language:

English

Category:

Body, Mind & Spirit / Meditation

Book Vendors
Bookwire/Bowker ISBN Agency (SEO): Paperback / eBook

Paperback
eBooks
Email: This email address is being protected from spambots. You need JavaScript enabled to view it.

Description:
A detailed tutorial with profuse diagrams showing what actions to take in the subtle body to investigate the senses faculties. The meditator must first establish the location and function of the observing self. That self must be screened from the thoughts and ideas which usually hypnotize it. In the first and second chapters that screening ability is developed with applications to the smelling and tasting senses.
Initially, devaPriya Yogini meditated to discover the sense orbs in the subtle body. Her notes and diagrams were studied by Michael Beloved who used her manuscript in completing the practice. This is the result of their endeavor. This book was to be titled Sense Orbs but we realized that it is hardly likely that a meditator would develop the abstract objectivity to see the orbs. Instead there would be direct comprehension of the sense faculties.
Feel assured that by reading this book, you will develop a deeper state of consciousness during your meditations. Each technique herein was practiced by one or both of the authors. This is recent and relevant. It complies with Patanjali's requirements in the Yoga Sutras for samyama on the subtle sense organs.
Back Cover:
Meditation ~ Sense Faculty is the pictorial format of the inSelf Yoga™ course for discovering the psychic sense faculties. This was developed by devaPriya Yogini and concluded by Michael Beloved, who tested the techniques. These mind diagrams give graphic depiction of what may take place in the head of the subtle body during meditations for pin-pointing, isolating and directing the interest energy of the core-self, the observing transcendental I-identity.
Author's Comment:
This book gives the details of the ravages of the mind. It is for those who do advanced medition and noticed the persistent interference the mind perpetrates. One should take courage, be brutally honest with oneself and realize where one failed to bring the mind to order. The unity of the so called self should be bashed apart to discover the core.